Bar Gratings
Welded steel bar grating is the most popular bar grating due to its strength, low cost, and ease of installation.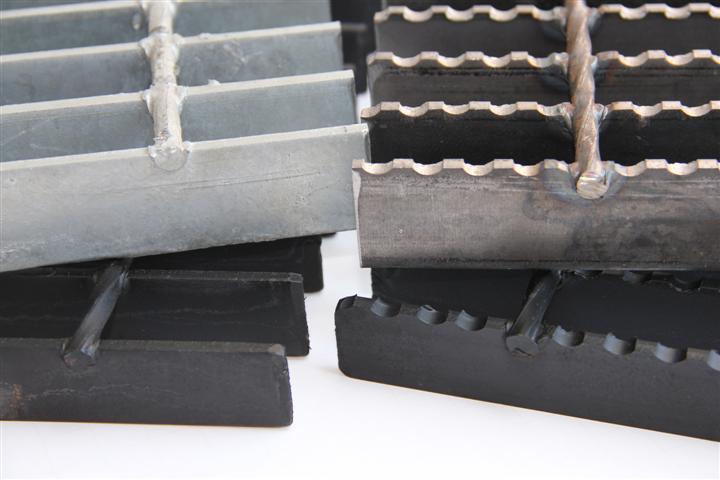 It is used in a wide variety of applications including industrial plants, commercial buildings, walkways, platforms, safety barriers, drainage covers and ventilation grates. The openings are cost saving by maximizing the circulation of air, light, heat, water and sound, while promoting cleanliness. Whatever your specific needs are, Accurate Alloys, Inc. has the right bar grating for your application.
To order, please specify:
Smooth or serrated
Bar thickness: 1/8", 3/16", or ¼"
Bar depth: 1", 1-1/4", and 1-1/2"
Finish: Mill-unpainted, painted, or galvanized
Width and length
Stainless steel grating is ideal for use in food processing areas, breweries, sewage treatment plants where caustic environments are normal. Stainless steel bar grating is available in welded, riveted, and swage or press locked grating.
Aluminum bar grating is corrosion resistant, non-sparking, and valued for light weight and high strength. Applications range from walkways, to platforms, sewage treatment plants, refineries, ships and food preparation facilities. Aluminum grating is available Swage and Press locked, close mesh, and riveted.
Riveted bar grating is the primary choice of many engineers for heavy load applications. Compared to welded or swaged-locked grating, riveted has a greater load carrying capacity for the same span and depth of grating. Our riveted bar grating is available in both steel and aluminum.
Close-mesh grating is similar to standard grating except that the spacing of the bearing bars is closer, ranging from 7/16" to 13/16" Press locked or welded. It is suitable for applications requiring narrow spacing for aesthetic or functional reasons per ADA requirements.
Bar Grating Specifications:
Bearing bars: 15/16", 13/16", 11/16", 10/16", 8/16" (1/2"), 7/16"
Welded (W) or Press Locked (P)
Cross Bars: 4" or 2"
Heavy-Duty Grating uses thicker (1/4", 5/16", 3/8") and deeper bearing bars. Grating can be custom fabricated on request. Heavy-Duty grating is has the strength for use on airfields, highways, industrial floors, ramps, docks, truck terminals, parking lots, and specialty applications.
Contact one of our experts today for a fast, detailed quote on any of our bar grating products.
Bar Gratings Gallery
Click image to enlarge [ + ]
Click here to submit a Request for Quote.
Or call us toll-free today at 1-626-338-4012.